Paint Protection System can Slash Your Truck Care Expenses!
---
Drivers Comments:
I would polish the alloy tanks & stainless accessories weekly. However since applying the Colour Shield Truck Paint Protection, I have found that there has been no need to use harsh chemicals to keep the vehicle clean & shiny. Polished alloy & stainless no longer have water marks after washing, now polishing is a thing of the past.
During the trial period we left the rear driver polished alloy hubs without the Protection Coating. Therefore directly comparing the effect of day to day running with the rest of the truck. Subsequently lime wash & tar from road upgrades caused dulling of the driver hubs, however there was no impact on the rest of the vehicle. Previously under the same conditions, tar would have stuck to the alloy and paint work. Consequently having to utelize harsh chemicals to allow the removal.
A recent locust plague also cause a build-up of residue, which on other vehicles in the fleet required harsh scrubbing and chemicals to remove it, whereas the vehicle with the Truck Paint Protection System only needed light sponging and washing with Neutral PH shampoo, with this procedure there is no damage to the vehicle's surface.
I have now covered 120.000 KM and the Truck Paint Protection is still going strong. The man hours spent on keeping the truck in pristine condition have been greatly reduced, now being able to spend more time with my family whilst enduring less driver fatigue.
"Batto" Operator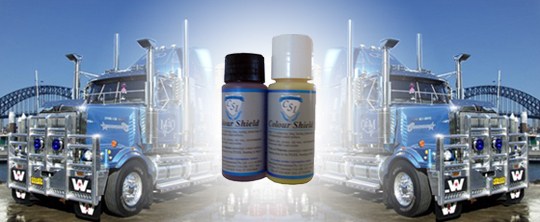 120.000 KM & PPS keeps on shining on this Western Star!
---
Owners Comments:
We have noticed a considerable difference on a comparison with unprotected vehicles especially concerning the paintwork, alloy and stainless steel accessories. Consequently the rest of the fleet will have this Truck Paint Protection applied as soon as possible. Not discounting company cars and my private boat. We are very pleased with the service and products supplied by Colour Shield International.
Justin Whitty Managing Director
---
Colour Shield's formula outlasts & outperforms all other products containing Silicones, Polyethylene's, Resins & Waxes!
Saves Time and Money with fewer washings and no polishing!
Colour Shield helps maintain a HIGHER resale value!
Your Fleet appears 'Just Polished' all year round!
Only PPS can chemically bond, PTFE to painted surfaces.
---
Truck Paint Protection from these Destroyers!

---
Colour Shield International.
Our customers know there are much better ways to spend their precious free time than washing and polishing their Trucks, using products that don't last. Now you can apply Colour Shield and get the brilliant shine and long lasting protection that you have been looking for in those other products 'Colour Shield is not a wax or a polish'. It is a 2 Step Paint Protection System (PPS). this adds a layer of durable PTFE to your Vehicle finish, creating strength and sealing out pollutants. Whether it's your Bright Work, Fabric, Leather or Paint that needs Protection we specialize in products that make your Vehicle look the part and stay much cleaner between washings. Our customers are our best advertisement. But don't just take their word for it! We are very confident that you will love our products!! If you have any questions about our products, please contact us.
---
Average kit's required based on the Featured Truck!